This southwest chicken soup is super easy to make and oh so yummy.
Add the homemade tortilla strips...and wowza...it is good!
I don't think this picture gives the soup justice, but believe me, it is delish.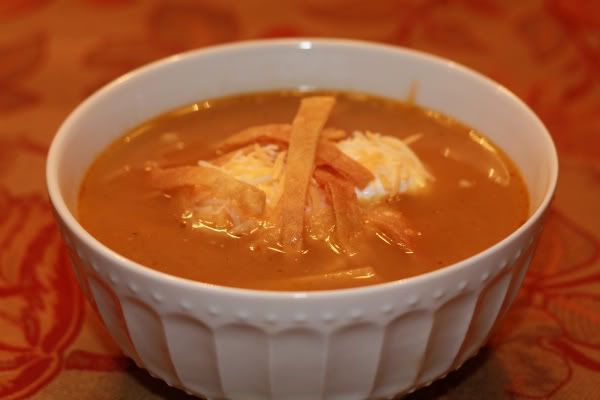 Ingredients
...
1 jar of Pace Salsa Verde 1 Rotisserie Chicken
(Costco sells these and are a couple of dollars cheaper than at your regular neighborhood grocer, but Costco is awesome like that. Am I right or am I right?)
1 (15 oz) can of white beans drained1 (15 oz) can of black beans drained2 (32oz) cartons of chicken stock
(I get the six pack of Kirkland Chicken Stock from Costco and and use 2, or just under 2 of the cartons.)

garnish: shredded cheddar cheese, a dollop of sour cream & homemade tortilla strips


Directions...
Remove skin from chicken and shred meat with forks. Combine all ingredients into a large saucepan. Bring to a boil, reduce heat and simmer 10-15 minutes. I like to let it simmer for an hour or so just to let all of the flavors blend together, but it is still good if you are short on time and can only simmer for 10-15 minutes.
While your soup is simmering, in a large frying pan add about 1/2 inch of oil (I used vegetable oil) and set to medium heat.
Cut corn tortillas into strips or triangles for chips.
Fry them for about 4 minutes or until the strips are crispy. You'll know the oil is hot enough when you drop 1 in and it bubbles and floats to the top quickly. If it sinks and sits there… you're not hot enough yet. Once you are hot enough you can lower your temp to low/med.
Throw them on some paper towels, cover them with paper towels and give them a good shake so you can get a lot of the grease off. Then douse them with salt.
Voila!